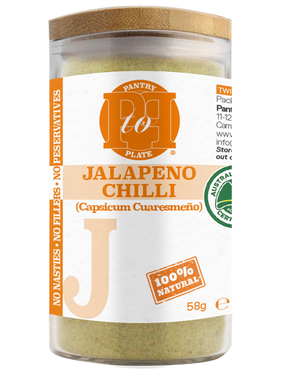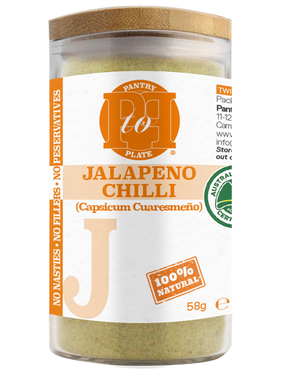 On Sale
Jalapeno Chilli Powder

(Capsicum Cuaresme)
A biting and aromatic medium-heat chilli powder with earthy notes.
Jalapeño Chilli Powder is made by grinding dry green jalapeños. As one of the first and oldest cultivated crops in the Western Hemisphere dating back to before the Aztec civilization, Jalapeño literally means from "Jalapa" after the Mexican city where it was first cultivated.
Perfect For: Jalapeño Chilli Powder is perfect for beef, chicken, and pork. Use it to add incredible depth to chilli con carne, stews, sauces, & casseroles. Make rubs and marinades, or add heat to your burritos, nachos, and quesadillas. Or use to add boldness to soups & salsas.
Pairs Beautifully With: Our all natural Garlic Powder, Onion Powder, and Cumin Seeds.
Unleash the Flavour: This chilli thrives in fatty foods, so add with caution. Dilute with water or cook with less fat to curb the heat while still imparting a medium heat.
Origin: Sourced from the home of the Flamenco, Spanish guitars, bullfighting and bakalao - Spain
Ensure Longevity: Store in a cool, dry place out of direct sunlight.