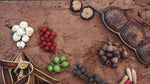 The P2P team would like to acknowledge the Traditional Owners of country throughout Australia and recognise their continuing connection to land, waters and culture. We pay our respects to their Elders past, present and emerging.
As a proud multi-cultural, 100% Australian owned and operated business, our country and identifying as "Australian" means a lot to us. Our families escaped many hardships including war and poverty to come to Australia and build a better life for their children, for which we are eternally grateful.  But their ability to do this came at a great cost, none more so than to our first Australians, who were forced to give up their lives and way of life so we that we could have ours.
So as massive foodies, the P2P team would like to honour them in the best way we know how, by talking about the food! So we took this opportunity to dig into some "Bush Tucker" and learn about traditional Aboriginal Cuisine.
As traditional hunters and gatherers, a diet of meat, fruits, seeds and insects are key pillars in the Outback. For over 60,000 years, our First Australians developed their own masterful cooking methods that allowed them to grind, roast, bake, boil and steam their food. Expert fire users, they are able to use their natural resources such as different wood, plants and leaves to not only control the heat of the flames, but to flavour their food.  And in doing so, they created a varying yet well balanced diet that adapted to the weather conditions and availability of the seasons.  
When it comes to traditional meat, we all immediately think of Kangaroos. And whilst Kangaroo steaks and burgers are now in the mainstream, our indigenous Australians also ate Emus, Possums, Turtles, Crocodile, Goanna, Snakes and fish. Game was traditionally cooked by roasting on hot coals, slow cooked by covering with ash and coals, or steamed in digged-out pits used as ground ovens.
If you went to primary school in Australia, then without a doubt at some point you would have made Damper. Now a staple in campsites everywhere, this delicious bread was traditionally hand-made by grinding seeds to create a flour, then adding small amounts of water until a dough is formed. It was then baked in the ashes of a fire until it was cooked through. Different types of wood is selected to ensure the flavour that was imparted, with wattle being a common choice. 
Depending on weather and availability, native fruits and seeds like bush tomatoes, wild passionfruit, bush banana and wattle seeds are also common. For sweetness, tribes would also gather honey and nectar from honey ants, flowers and bees.
And of course, you can't discuss Aboriginal foods without mentioning the humble witchetty grub. High in protein, witchetty grubs could be eaten raw, or quickly rolled in hot ashes to cook.
We've only touched on a tiny snapshot of traditional Aboriginal cuisine, but hopefully we've inspired you to try something new and learn more about our Country's amazing heritage. Happily, there are now several restaurants across Australia paying homage to our first people and offering their modern takes on Aboriginal food. So if you haven't already, get out and give it a go!
Image: Bush Tucker - Tropical rainforest fruits on paper bark | Courtesy of Tourism Australia © Oliver Strewe