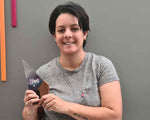 The P2P team is incredibly proud of our amazing Co-Founder and Chief Operating Officer, Melissa Murat, on being the inaugural winner of this year's Australia Post Online Retailer Industry Awards Unsung Hero – Small Retailer Award! Previously known as the People's Choice Award, it was renamed to the Unsung Hero Award in 2020 to focus on resilience and innovation, and highlight those individuals behind the scenes that went above and beyond, despite the unprecedented circumstances 2020 has brought to the retail industry.
Congratulations to all the other very worthy finalists for this incredible award. And to Mel, we're so very proud to call you ours. Congratulations!
Article as seen in the National Tribune
After an overwhelming number of entries, the winners of the Australia Post Online Retail Industry Awards (ORIAS) Unsung Hero Award for 2020 have been announced. Melissa Murat Co-Founder & Managing Director of Pantry to Plate Co. and Eunsoo Jeong from Esther & Co. were awarded the win for the small and large retailer categories respectively.
In what has been an incredibly challenging year for business, the new Australia Post Unsung Hero award recognises individuals who have worked harder than ever to keep their business running.
On receiving the award for her efforts transitioning Pantry to Plate Co. from what was to be the opening of their first flagship retail store into selling directly to supermarkets during the pandemic, Melissa said she was incredibly proud.
"2020 has been a tumultuous year for our business, we've had to pivot fast and change how we do things, but I couldn't be prouder of what we've achieved."
Eunsoo has been given the accolade for her unwavering customer focus and ability to think differently and overcome barriers that come her way. Eunsoo said.
"This has been a year like no other and I'm really proud of the way we've been able to continue growing the business, and delivering clothes and accessories our customers love."
Australia Post Executive General Manager Business, Government & International Gary Starr said, the competition was tough this year with so many inspirational individuals who have gone above and beyond to make business possible.
This award celebrates the innovation, resilience and hard work that has been shown by so many online retailers.
"This has been an historic year with record online shopping growth coupled with incredible challenges for business due to the COVID-19 pandemic, but seeing people find ways to adapt has been truly inspirational.
"We're so proud to be part of the ORIAS again this year and to have the opportunity to acknowledge Australia's hardworking online retailers," Mr Starr concluded.
More information about the 2020 ORIAS and the full list of winners is available at: onlineretailer.com/en-gb/orias.html