Renowned for its beautiful beaches, kind-natured people, cheap massages, and the hustle and bustle of its street markets, what really sets Thailand apart is the abundance of flavourful food found on every corner. Truly a Foodie's Haven, from high-end restaurants to some of the best street food you'll ever taste, they certainly know how to bring a deliciously subtle complexity to the simplest of dishes.
So whilst in Phuket, in addition to doing my due diligence by eating absolutely everything in sight (all DELISH btw!), as an anniversary gift, the Husband purchased for me a Thai cooking class (what can I say, the guy just "gets" me 😊).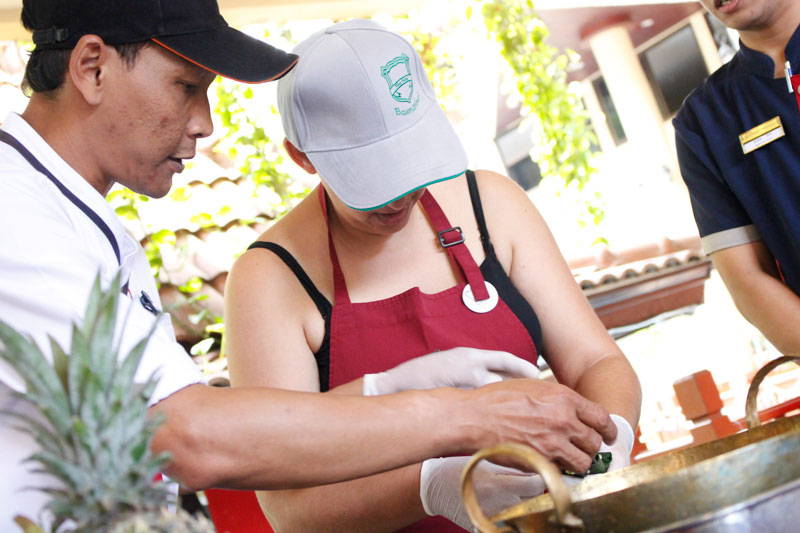 Learning how to wrap the Chicken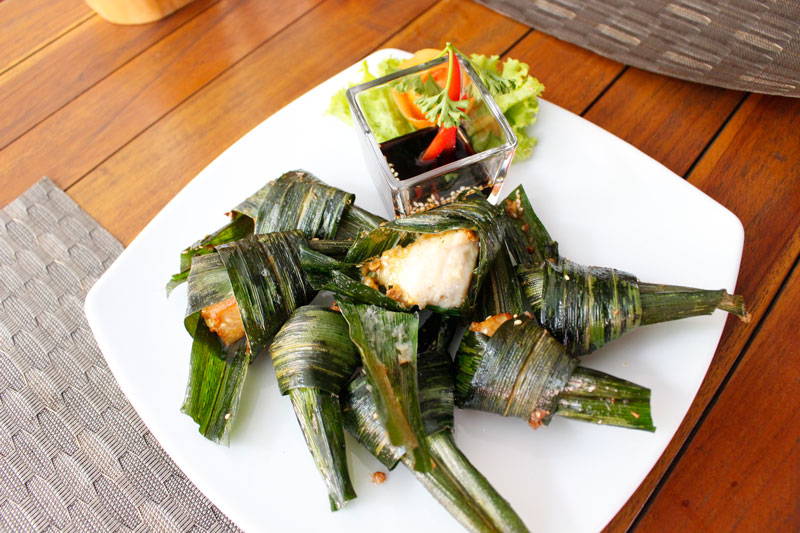 Gai Hor Bai Toey (Deep-fried Chicken in Pandanus Leaves).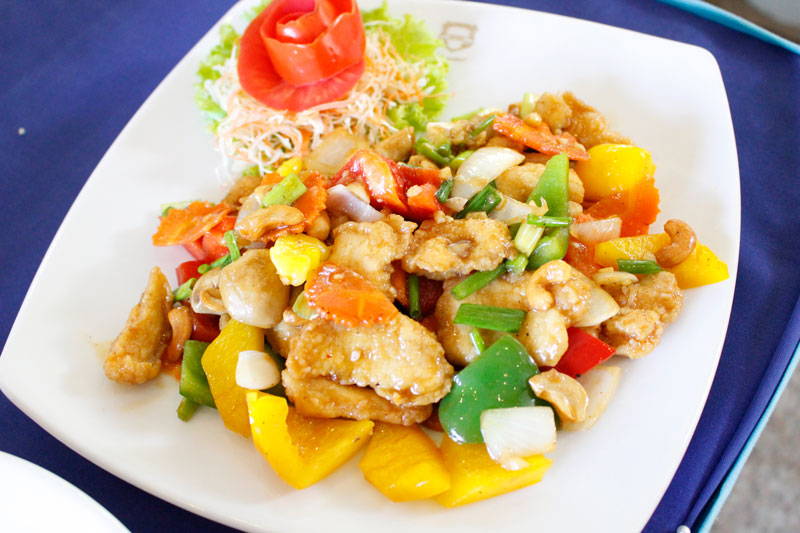 Gai Phad Med (Stir-fried Chicken with Cashew Nuts).
My adventure starts at the Baumanburi Hotel, where my delightful host, Bank, greets me. Our first stop is to Banzaan Fresh Market, Patong. It's here where Bank shows me all the produce that's sought and sold, from fresh seafood, meat, fruit and vegetables, to shrimp paste, curries and dried spices. He shows me all the ingredients we'll be cooking with and its use in Thai cooking.
We make our way back to the Hotel where I meet the wonderful Chef Pu, my teacher for the day. Prior to the class I got to select 3 meals that I'd like to cook. Not being too much of a curry connoisseur (that's Mel's forte more than mine), I picked 3 dishes that I felt were more suited to my palate – lots of garlic and enough heat that you can enjoy it without burning your face off! 😊
My first dish is called Gai Hor Bai Toey (Deep-fried Chicken in Pandanus Leaves). Essentially a succulent piece of chicken that's marinated, then wrapped in a pandanus leaf and deep-fried until the chicken is cooked, but not crispy. There is an art to the knot used in the pandanus leaf that the chicken is inserted into as to not break the leaf and requires a very soft touch. I think it's fair to say I broke a few until I got the hang of it! The chicken, once marinated, is then inserted into the leaf and secured so that very little of the chicken is visible. Its then fried for a few minutes until the chicken is cooked through. This recipe was a huge hit with the family and is very kid friendly.
The second dish is called Gai Phad Med (Stir-fried Chicken with Cashew Nuts). And WOW, this dish has it all. Flavour, vibrant colours, and surprisingly so simple to make! Chicken breast is thinly sliced, coated in flour and shallow fried for a few minutes. In a separate wok, vegies are cooked alongside all the other ingredients, the chicken is re-added and that's it! All done!
The last meal we cooked was called Phad Ka-paw Moo (Sauteed Pork with Chilli & Hot Thai Basil). Having never cooked with hot Thai basil before, I was really interested in how it's prepared and used, and what it adds to the dish. Again, deceptively simple given how complex the flavours are, I had to take Pu's recommendation as to how much heat I thought I could tolerate given how spicy this could be. But his experience shone through and his recommendation spot on, it was bang on in flavour and heat that kept you wanting more.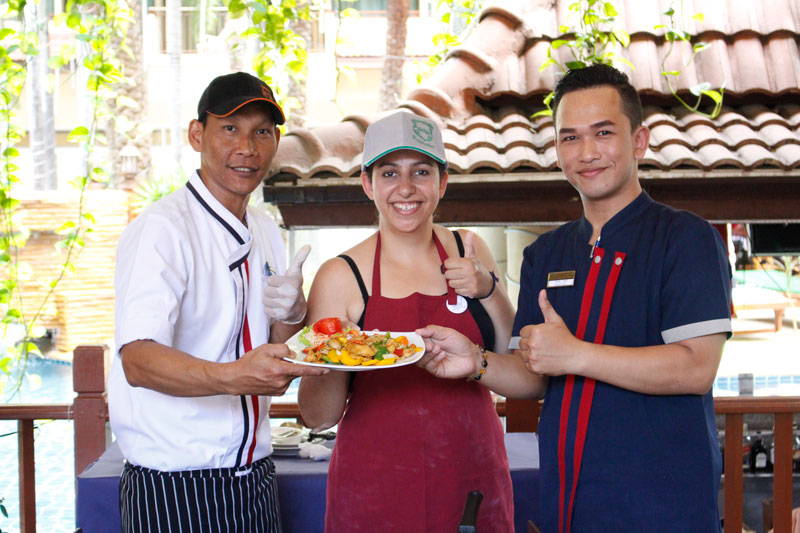 At the end of the lesson my family was invited to sit down and taste-test what I'd cooked. The results were pretty impressive, and I was given the thumbs up by both the hubby and the kid!
Based on my cooking lesson, here's my top 3 tips when cooking Thai:
Balance is key. Whilst all three dishes contained a lot of garlic and chilli, they were all balanced out with sugar, soy, fish sauce or broth/stock so that a single ingredient didn't overshadow the other and added a depth of complexity to each mouthful.

Aromatics matter. If cooking with fresh garlic and chilli, they are first to go into the pan to release the flavours (not required when cooking with dried herbs and spices.

The use of a broth or stock when stir-frying. Keep some broth or stock nearby when cooking stir-fry's to help boost flavour and stop your dish from getting too dry.
Thanks for reading and keep an eye out on our recipe's pages, we'll be adding the above 3 beauties very soon!!