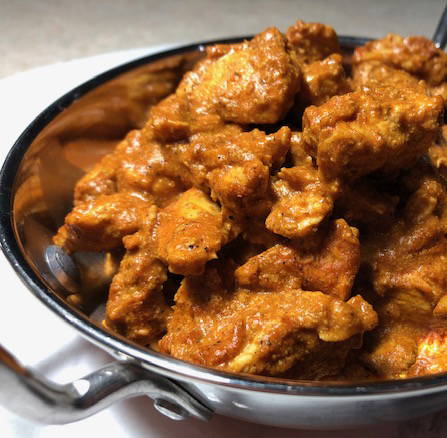 If you think you've seen it all, think again! This amazingly delicious creation will blow your mind. Get into our Butter Chicken Pies! Once you've seen how incredibly easy and tasty this is, you'll be left wondering where they have been all your life!
---
Ingredients
1kg Chicken Breast
170g Tub of Greek natural yoghurt
4 tbsp Butter Chicken Spice Blend
Olive oil
1 Tub of triple concentrated tomato paste
300ml Light thickened cream
¼ tsp Salt
4 Sheets of each puff pastry and shortcrust pastry for pies.
Method
Dice chicken and put into a bowl
In a separate bowl combine the yoghurt and butter chicken spice blend – mix well
Add yoghurt mixture to the chicken, stirring well to ensure all chicken is coated
Place chicken in the fridge for at least 3hrs (longer is better)
Heat oil in large fry pan over high heat
Add the marinated chicken and cook for approx. 3-5mins, stirring constantly
Add tomato paste, salt and cream stirring well
Reduce heat to low and leave to simmer (uncovered) for 15-20mins, stirring often to prevent burning
Serve with rice and naan bread
OR
Make pies!
Allow the chicken to cool while you cut your pastry for your pie maker – puff pastry on the tops, shortcrust for the bottoms