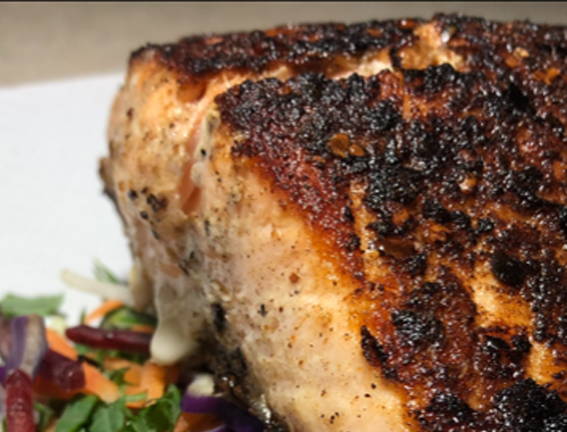 This succulent Salmon Dish featuring our Thai Seven Spice is perfect for showcasing at a dinner party or a casual mid week meal. Who ever you are cooking for, if they like Salmon, they will love this. And the best part is, it's quick, healthy and nutritious.
---
Ingredients
2 x 250g Salmon fillets, skin on
1Tsp Thai Seven Spice Blend
Olive oil (to cook in)
Lime (fresh or pre-juiced) to taste
Chilli flakes (optional)
---
Method
Drizzle salmon fillets with olive oil – both top and bottom
Sprinkle about 1tsp of Thai seven spice to the tops of each fillet and pat / rub in
If using chilli flakes, add to your desire
Squeeze a good amount of lime juice of each fillet
Heat olive oil in a pan over high heat
Add the salmon fillets skin side up and cook for approx. 4-5mins
Turn over and cook for a further 3-4mins until skin is crispy
Should you feel the salmon needs further cooking ( as is the case if they are quite thick) you can:
Continue to cook in the pan over medium heat, turning a couple of times to ensure they don't burn
Place the salmon on an oven tray and continue cooking at 200deg until cooked to your desire. This will stop the skin becoming burnt but remain crispy
Serve with Asian greens, chips / wedges, rainbow salad…basically anything you like!
Note: due to the colour of the spice blend, your salmon may appear "burnt" looking, but know it is not, that's just the crispy goodness :)