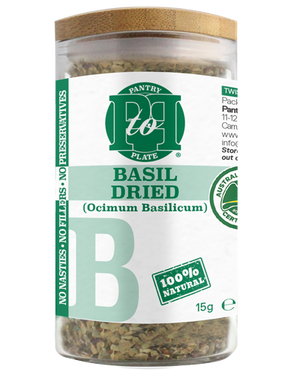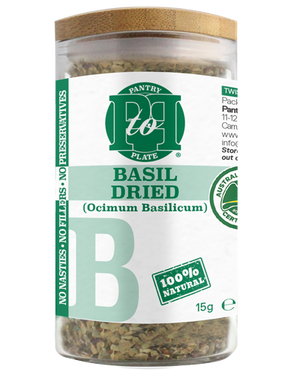 On Sale
Basil Leaves Dried

(Ocimum Basilicum)
A bright, highly fragrant and slightly sweet herb.
Price per 10g: Only $1.84
Renowned for its culinary and medicinal qualities, Dried Basil is a member of the mint family, considered the "King" of herbs. Believed to have embalming properties, it has been found in the Ancient Egyptians' tombs and mummies. Egypt is still one of the two first countries where it is cultivated and exported.
Perfect For: Dried Basil's fragrant sweet & versatile flavour makes it King in the kitchen, especially Italian cuisine. It pairs wonderfully with tomatoes & tomato-based sauces. Use it to season pizza, add it to pesto, or use it to season fish, chicken or rice. Liven up a fresh fruit salad to highlight the freshness.
Pairs Beautifully With: Our all-natural Oregano, Parsley, and Rosemary. Check them out along with the rest of our amazing range in store or on our website!
Unleash the Flavour: Infuse 1tbsp of Basil with 1tsp of olive oil for about 10 mins to rehydrate and bring out the full flavour.
Origin: Sourced from the land of the Gods and Pharaohs - Egypt
Conversion: 2 Tablespoons of fresh chopped basil = 1 teaspoon of dried basil
Ensure Longevity: Store in a cool, dry place out of direct sunlight.