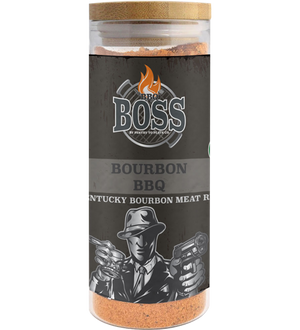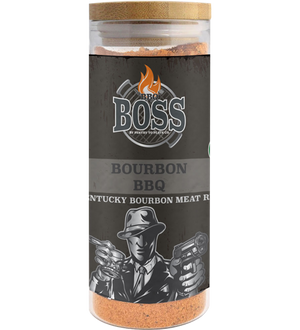 On Sale
BBQ Boss - Kentucky Bourbon Meat Rub

A deep, smoky bourbon

flavour with a tempered 

kick

.
Pantry to Plate's BBQ Boss Bourbon Meat Rub is just that, sweet flavour combined with all the best that bourbon has to offer. If you didn't know, bourbon is choice for every occasion. The subtle sweet caramel notes pair so elegantly with food cooked over an open fire. So why not do a rub? Subtle sweet and salty flavours will keep you coming back for more. Sprinkle some of this on your favourite cut of pork ribs, shoulders and bacon.
There are no limits to this rub! Such as amplify chicken wings, venison, elk or salmon. Using Tennessee's own Green Brier Distillery's bourbon, black pepper, smoked paprika, onion, and garlic, this is a true Southern BBQ, sweet and robust.
Perfect For: Rubbing on chicken, pork or lamb. Cook over a charcoal grill to bring out the smoky flavour.
Origin: We've done the blending for you, in Australia from all natural local and imported ingredients.
Ensure Longevity: Store in a cool, dry place out of direct sunlight.