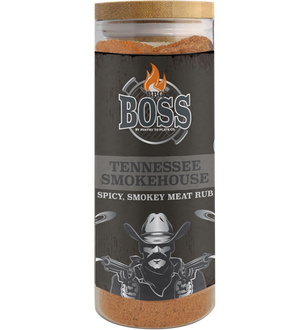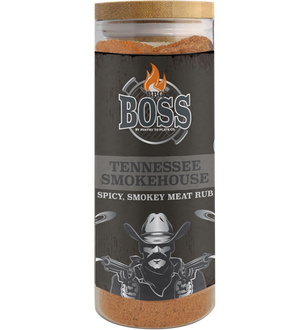 On Sale
BBQ Boss - Tennessee Smokehouse Meat Rub

A Smoky, tenderising blend with a fiery twist
Tennessee has a long and proud tradition of homestead Barbecuing. Smokers may vary from a simple pit construction for whole hogs, converted barrels, commercial side-box smokers, or the very grand smoker-trailers with lights. But for Tennesseans it's a meditation on time, smoke, and flesh that requires a delicious waiting game as much as smokehouse savvy.
BBQ Boss Tennessee Smokehouse Meat Rub contains smoked paprika with touches of chilli, mustard, black pepper and garlic for mouth-watering, Tennessee-style flavour. 
Perfect For: The BBQ Boss Tennessee Smokehouse Meat Rub is perfect for creating mouthwatering brisket, fall off the bone ribs and melt in your mouth pulled pork.
Origin: We've done the blending for you, in Australia from all natural local and imported ingredients.
Ensure Longevity: Store in a cool, dry place out of direct sunlight.