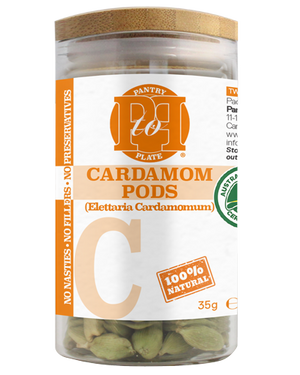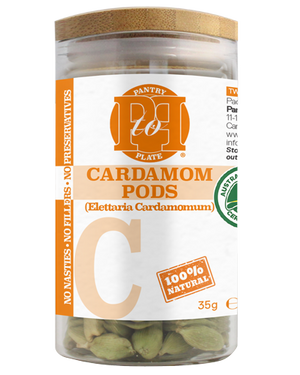 On Sale
Cardamom Pods (Green)

(Elettaria cardamomum)
A versatile, aromatic sweet flavour.
Part of the Ginger family, Cardamom has been used around the world for centuries and is considered one of the world's oldest spices. Historically, the Ancient Egyptians chewed Cardamom Pods to help clean their teeth and treat bad breath due to its somewhat minty flavour!
Perfect For: Cardamom is perfect for both sweet and savoury dishes. Use it in curries and hotpots. Add it to rice dishes like Biryani and Pilaf. Use it baking cakes and puddings, or add a few bruised pods to your coffee or mulled wine for a delicious aromatic twist.
Pairs Beautifully With: Our all natural Turmeric, Ginger, and Coriander Seeds.
Unleash the Flavour: Bruise Cardamom Pods gently with a mortar and pestle before use to bring out its incredible flavour. For a nutty roasted taste, toast pods in a dry pan.
Origin: Sourced from the home of Yogi's, Bright colours and the Taj Mahal - India
Ensure Longevity: Store in a cool, dry place out of direct sunlight.