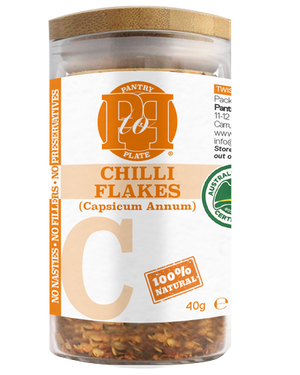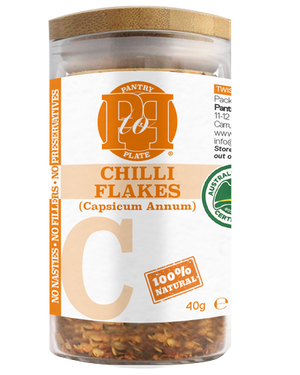 On Sale
Chilli Flakes Dried

(Capsicum Annum)
A fiery, somewhat numbing and punchy bite.
Forming part of the capsicum family, Chilli Flakes are made from dried and crushed Red Chilli Peppers. It was believed back in the 15th Century, the that Spanish explorer Columbus wrongly assumed due to their heat that chillies are a relative of peppercorns and hence the name Chilli "Peppers" stuck.
Perfect For: Chilli Flakes are perfect for rubs, stews, and tomato-based sauces. Make your own spicy marinades or add some heat to dips and condiments. Or sprinkle some on your eggs or pizza to add some dazzling heat.
Pairs Beautifully With: Our all-natural Garlic Powder, Cumin Seeds and Onion Powder.
Unleash the Flavour: Warm Chilli Flakes in oil before using to bring out the full flavour and soften the heat a little.
Origin: Sourced from the home of Yogi's, Bright colours and the Taj Mahal - India
Ensure Longevity: Store in a cool, dry place out of direct sunlight.