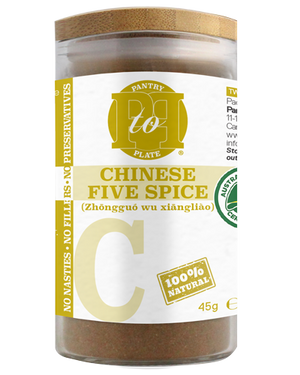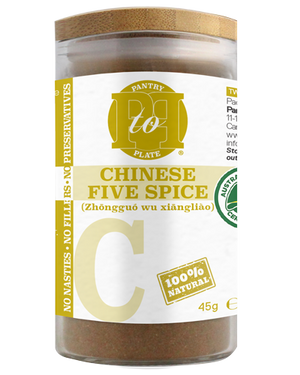 On Sale
Chinese Five Spice Blend

(Zhōngguó wu xiāngliào)
A powerfully scented blend of spices.
Known as the Yin and Yang of cooking, our Chinese Five Spice encompasses a balance of all the five Chinese cuisine elements: sour, bitter, sweet, spicy, and salty.
Perfect For: This fragrant spice blend is perfect as a rub on fatty meats like pork, duck or goose. It adds a richness to leaner meats like chicken & fish. Or get creative & add to a Whiskey Sour cocktail to carry the flavour profile into your drink.
Contains: Chinese Five Spice is traditionally used in Chinese and Taiwanese cuisine. Its five assertive components are Cinnamon, Cloves, Fennel Seed, Star Anise, and Szechuan Pepper.
Origin: We've done the blending for you, in Australia from local and imported ingredients.
Ensure Longevity: Store in a cool, dry place out of direct sunlight.