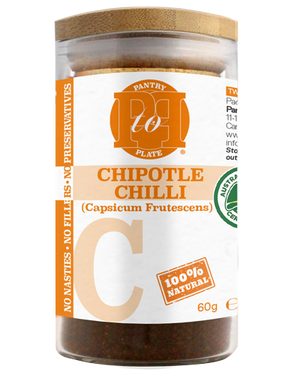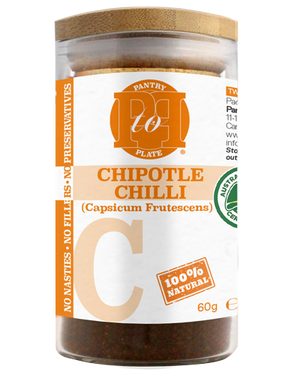 On Sale
Chipotle Chilli Powder Ground

(Capsicum Frutescens)
A rich, smoky & medium-heat chilli powder that's earthy & tangy.
Originating in Chihuahua, Chipotle Chilli Powder is a Mexican favourite, made from the Morita variety of jalapéno's Peppers that have been smoked whole over a wood fire for days then ground. It's believed the Aztec's used this smoking process to preserve the thick-fleshed jalapéno's as they tended to rot before drying.
Perfect For: Chipotle Chilli Powder provides a delicious, smoky yet moderate heat to red & white protein. Use it to add incredible depth to Chilli con Carne, stews, sauces, & casseroles. Or add some boldness to soups & salsa. If you're feeling daring, add it to a hot chocolate for a winter warmer with a smoky, sweet kick.
Pairs Beautifully With: Our all-natural Garlic Powder, Onion Powder, and Cumin Seeds.
Unleash the Flavour: This chilli thrives in fatty foods, so add with caution. Dilute water or cook with less fat to curb the heat while still imparting the smoky flavour.
Origin: Sourced from the home of the Flamenco, Spanish guitars, bullfighting and bakalao - Spain
Ensure Longevity: Store in a cool, dry place out of direct sunlight.