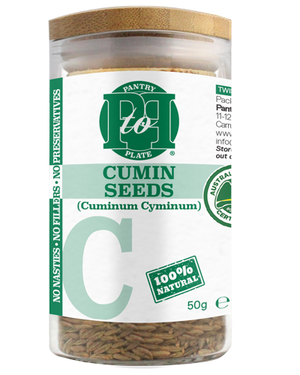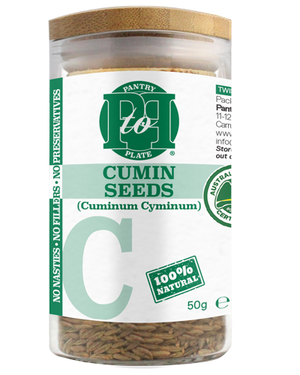 On Sale
Cumin Seeds Dried Whole

(Cuminum Cyminum)
Sweet, sharp, pungent & complex in both aroma & flavour.
Price per 10g: Only $0.66
Cumin Seeds, hailing from Egypt, are a white seed with a strong flavour and slightly bitter aftertaste essential to Indian and Mexican cuisines. Related to parsley, it has a complex and intense character. Mentioned in both old & new testaments, Cumin is the only English written word that can be traced back to Sumerian, the first written language.
Perfect For: Cumin's earthy flavour makes it a foodie's staple no matter what cuisine you prefer. It's perfect for fajitas & tacos, or use it to flavour pork, beef, chicken or lentils. Enhance your soups, stews & curries. Use it to crust fish such as salmon, tuna or sea bass, or add a different twist on your homemade oven fries.
Pairs Beautifully With: Our all-natural Coriander, Cinnamon, and Turmeric.
Unleash the Flavour: Bruise Cumin Seeds gently with a mortar and pestle, then dry fry to bring its tenacious warming qualities.
Origin: Sourced from the home of Yogi's, bright colours and the Taj Mahal - India
Conversion: 1 teaspoon of cumin seeds = 1 1/4 teaspoons of ground cumin
Ensure Longevity: Store in a cool, dry place out of direct sunlight.