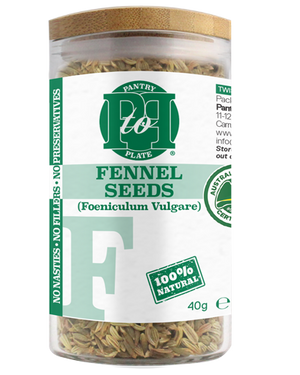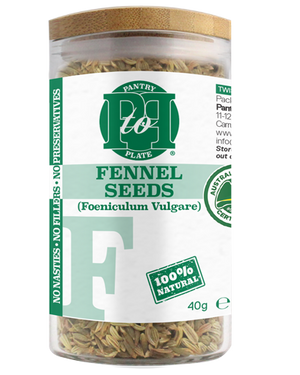 On Sale
Fennel Seeds Dried Whole

(Foeniculum Vulgare)
Warm, sweet and reminiscent of licorice.
Price per 10g: Only $0.77
Fennel Seeds are the tiny fruit of the Fennel plant. Native to southern Europe and belonging to the parsley family, its taste is similar to that of aniseed, explaining why the two are often confused. Its Greek name meaning "marathon", comes from the battle at Marathon, which took place back in 490BC, in a field of Fennel.
Perfect For: Fennel Seed's fruity taste perfectly balances savoury dishes. Great for sausage fillings, pork roasts, tomato sauces, marinades, & fish. Use it to flavour curries & soups or for pickling produce. Add it to bread loaves when baking to bring an aromatic twist to your breakfast toastie.
Pairs Beautifully With: Our all-natural Cumin Seeds, Sage, and Black Peppercorns.
Unleash the Flavour: Grind Fennel Seeds to release the oils that enhance the liquorice-like flavours. Dry fry to introduce a roasted nutty flavour.
Origin: Sourced from the home of Yogi's, bright colours and the Taj Mahal - India
Conversion: 1 teaspoon of fennel seeds = 1 1/4 teaspoons of ground fennel
Ensure Longevity: Store in a cool, dry place out of direct sunlight.