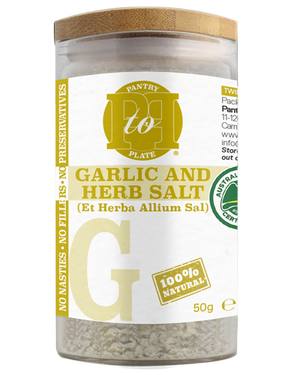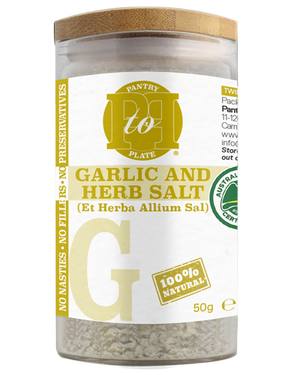 On Sale
Garlic & Herb Salt

(Et Herba Allium Sal)
A lively, savoury, and aromatic flavour.
Packing a flavour punch that's guaranteed to get your tastebuds singing, Garlic and Herb Salt is a mouth-watering combination of some of the world's favourite flavours mixed into one irresistible blend.
Perfect For: Herb and Garlic Salt blend is perfect for seasoning seafood, poultry and vegetables. Mix with butter to make an amazing garlic bread. Use it to add a depth of flavour to grilled fish, steamed vegetables or hot chips. Or sprinkle some over your popcorn to give movie night a delicious garlicky twist!
Contains: Garlic and Herb Salt is a a delicious, perfectly balanced blend of Sage, Thyme, Marjoram, Oregano, Garlic and Salt.
Origin: We've done the blending for you, in Australia from local and imported ingredients.
Ensure Longevity: Store in a cool, dry place out of direct sunlight.