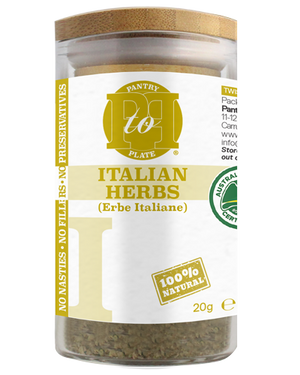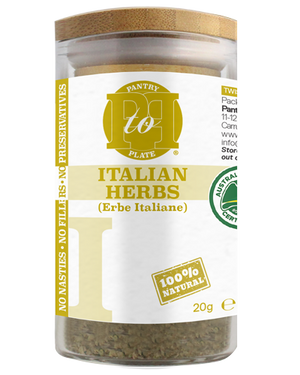 On Sale
Italian Herb Blend

(Erbe Italiane)
Rich, earthy and sweet. Simply Italian perfection.
Made with love, just like its name sake's art, history and architecture, our Italian Herbs is a blend of earthy, sweet, rich and unique flavours that are the very heart of all Italian cuisine.
Perfect For: This authentic Mediterranean blend is perfect for rich tomato-based sauces. Use it to work those infamous Italian flavours into seafood, pasta, pizza, soups and bread. Mix with oil and lemon to create a delicious vinaigrette.
Contains: Italian Herbs is a delicious, perfectly balanced blend of Basil, Oregano, Marjoram, Parsley and Capsicum that brings out the Italian in any dish.
Origin: We've done the blending for you, in Australia from local and imported ingredients.
Ensure Longevity: Store in a cool, dry place out of direct sunlight.