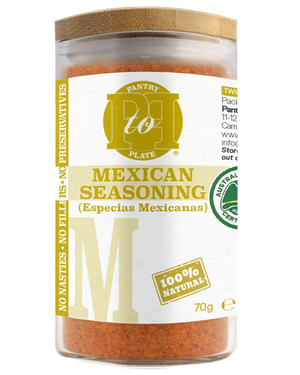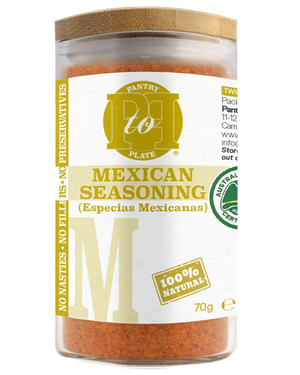 On Sale
Mexican Seasoning

(Especias Mexicanas)
Authentically spicy, sweet, and versatile.
The heart of "Vitamin T" (tacos, tamales, tortillas, tostadas and tequila), our Mexican Seasoning blend will give your dishes that authentic Mexican flavour that will leave your tastebuds screaming for more.
Perfect For: This authentic aromatic spice blend is perfect for getting those well known Tex-Mex flavours into your tacos, enchiladas, fajitas and chilli con carne. Or mix a little with some vinegar, oil and lime juice to create a tangy vinaigrette.
Contains: Mexican Seasoning is a versatile combination of the primary flavours in Mexican cuisine, Cumin, Garlic, Cinnamon, Onion and Smoked Chilli. It adapts easily to both red and white proteins as well as vegetarian and rice dishes.
Origin: We'e done the blending for you, in Australia from local and imported ingredients.
Ensure Longevity: Store in a cool, dry place out of direct sunlight.