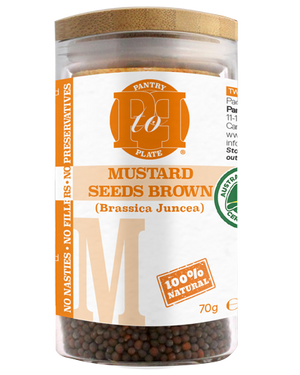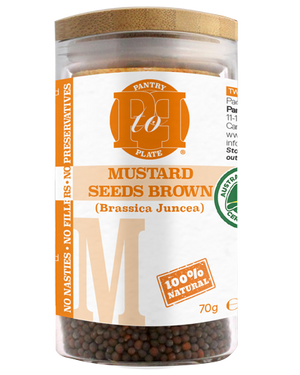 On Sale
Mustard Seeds Brown Dried Whole

(Brassica Juncea)
A bold, salty, tangy and punchy flavour.
Yellow mustard's spicier cousin, and borne from the beautiful yellow-flowered mustard plant, Brown Mustard Seeds offer a tangy, sharp, nutty and pungent flavour. In Roman times, mixing ground mustard seeds with unfermented grape juice made a condiment known as mustum ardens (meaning burning must) or "Must ard."
Perfect For: The perfect way to punch up the flavour in curries, or in marinades & sauces to serve as an ideal accompaniment for your steak, chicken or ham. Or amp up your pickles, chutneys & preserves to give them a powerful punch of savoury flavour.
Pairs Beautifully With: Our all natural Cumin Seeds, Garlic Powder, and Ginger.
Unleash the Flavour: Dry-fry Mustard Seeds until they start to 'pop' to release its amazing flavour!
Origin: Sourced from the Great White North and the home of Maple Syrup and ice hockey - Canada
Conversion: 1 teaspoon mustard seeds = 1 teaspoons ground mustard
Ensure Longevity: Store in a cool, dry place out of direct sunlight.