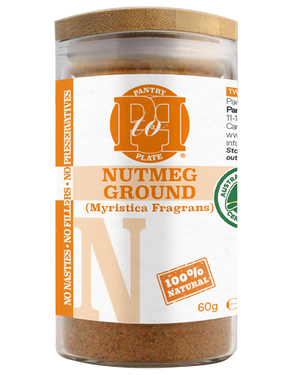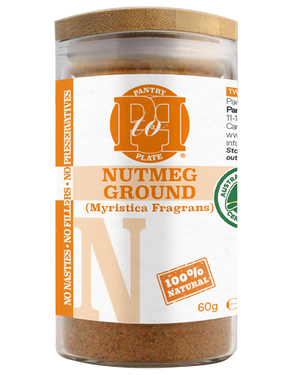 On Sale
Nutmeg ground

(Myristica Fragrans)
A Deep, sweet and warm woody like flavour.
Nutmeg, the Nutmeg tree's reddish-brown seed, is native to the Moluccas or Spice Islands in Indonesia. Its source was kept secret by local traders to secure their lavish lifestyles afforded by the trade. As its compound, myristicin is related to amphetamine, not only valued for its flavouring of food, but Nutmeg was also coveted for its believed hallucinogenic effects,
Perfect For: Nutmeg is perfect for both sweet and savoury dishes. Use it in quiche, sausage mix, and in white sauces. Or use it in baking bread, cakes, puddings, custards, spice cakes and cooked fruit. Or add it to your mulled wine or eggnog for a festive treat.
Pairs Beautifully With: Our all natural Ginger, Cloves, Cinnamon and Garlic.
Unleash the Flavour: Don't over cook Nutmeg, as it's oils are quick to evaporate. For a stronger flavour add towards the end of your cook.
Origin: Sourced from the home of Yogi's, Bright colours and the Taj Mahal - India
Ensure Longevity: Store in a cool, dry place out of direct sunlight.