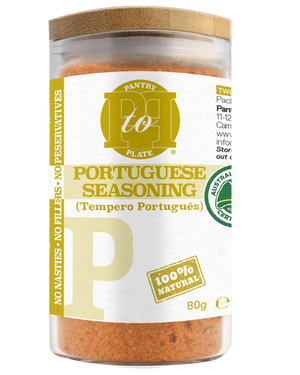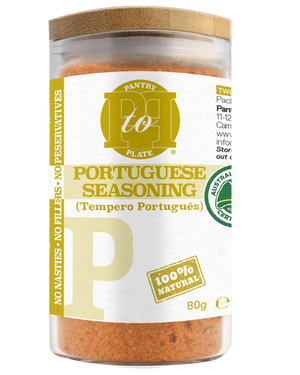 On Sale
Portuguese Seasoning

(Tempero Português)
An authentic, savoury and fiery Portuguese flavour.
From Peri-Peri's home, Portuguese Seasoning is an authentic blend packed with all the flavour and heat Portuguese food is renowned for. A global favourite, this enticingly fiery mix brings together the essentials of Portuguese cooking that will leave your taste buds screaming for more.
Perfect For: Portuguese Seasoning is perfect for meat, poultry, seafood and vegetables. Use it as a spice rub or marinade for meat, chicken or fish. Or mix it with flour to make a spicy batter. Or sprinkle it over hot chips for a delicious peri-peri twist.
Contains: Portuguese Seasoning is a deliciously spicy, perfectly balanced blend of Paprika, Pepper, Cumin, Coriander, Fenugreek, Turmeric, Garlic, Bell Peppers, Onion and Salt.
Origin: We've done the blending for you, in Australia from local and imported ingredients.
Ensure Longevity: Store in a cool, dry place out of direct sunlight.