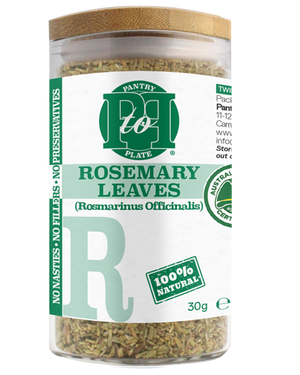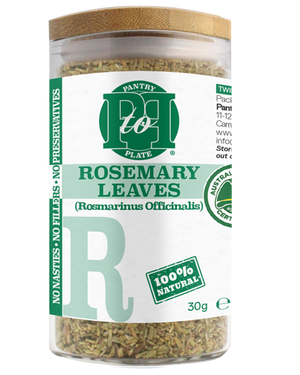 On Sale
Rosemary Leaves Dried

(Rosmarinus Officinalis)
A distinctive combination of lemon pine and charred wood.
Price per 10g: Only $0.92
Dried Rosemary is an aromatic, earthy herb that's part of the mint family. Its needle-like leaves are native to the Mediterranean and perhaps the single most potent stand-alone herb known to man. Historically, wreaths of Rosemary were often used during wedding ceremonies to symbolise fidelity and love.
Perfect For: Rosemary's earthy flavour is perfect for roasted lamb, poultry, potatoes, & tomato-based sauces. It's great in marinades & spice rubs & combines well with oregano & garlic. Add bread for an aromatic twist, or mix with melted butter to create a delicious spread for your dinner roll.
Pairs Beautifully With: Our all-natural Garlic Powder, Oregano, and Sage.
Unleash the Flavour: Infuse 1tbsp of Rosemary with 1tsp of olive oil for about 10 mins to rehydrate and bring out the full flavour.
Origin: Sourced from the land of belly dancing, pides and Turkish coffee - Turkey
Conversion: 1 teaspoon of dried rosemary = 1 tablespoon of fresh rosemary leaves
Ensure Longevity: Store in a cool, dry place out of direct sunlight.