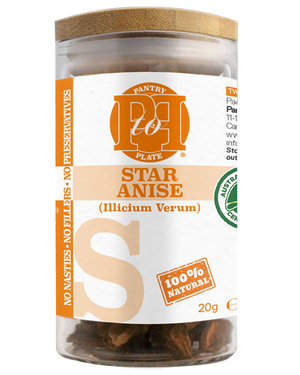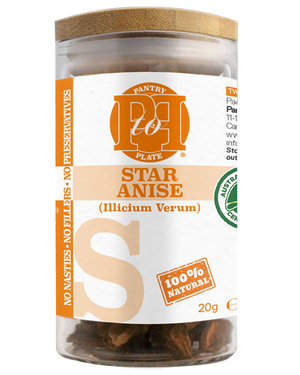 On Sale
Star Anise Dried Whole

(Illicium Verum)
Spicy and sweet with strong licorice notes.
Star Anise comes from the magnolia family and is shaped like an eight-pointed star, each point containing a single seed. In Chinese culture, this pointy spice is believed to signify good luck. More intense than Anise, in Japanese culture, Star Anise is also traditionally burned as Incense.
Perfect For: Star Anise is the key ingredient in the Chinese Five Spice blend and the hero of most Chinese and south Asian dishes. It is perfect for marinating and flavouring rich fatty meats such as pork belly and duck. Its full, sweet, intense flavour is a great addition to mulled wine, tea, and jams.
Pairs Beautifully With: Our all natural Cinnamon, Black Peppercorns, and Cloves.
Unleash the Flavour: Slow cook whole to release Star Anise's distinct delicious flavour!
Origin: Sourced from far beyond the Wall. Home of terracotta soldiers and fried rice - The People's Republic of China
Ensure Longevity: Store in a cool, dry place out of direct sunlight.