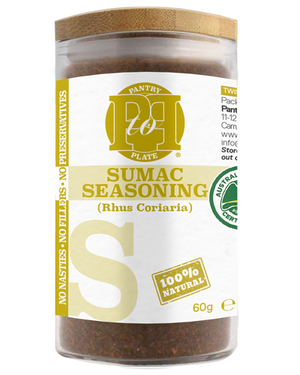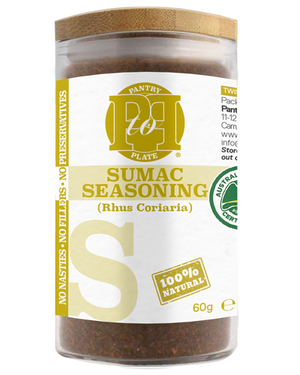 On Sale
Sumac Seasoning

(Rhus Coriaria)
Fragrant and powerful lemony flavour and aroma.
Sumac, made from the berries of the sumac bush, is native to the Middle East, North America and parts of the Mediterranean. Historically, Native Americans believed that juice extracted from the roots of the Sumac bush would cure warts.
Perfect For: Sumac is perfect for Middle Eastern dishes such as Kebbeh, fatoush, and falafels. Use in a rub or marinade for meat and fish. Or as a garnish for hummus and labni. Add to salad dressings for a punchy lemony touch. Or sprinkle over fish and chips for a zesty twist.
Contains: Sumac Seasoning is a tantalising perfectly balanced blend of Sumac and natural Sea Salt.
Origin: We've done the blending for you, in Australia from local and imported ingredients.
Ensure Longevity: Store in a cool, dry place out of direct sunlight.