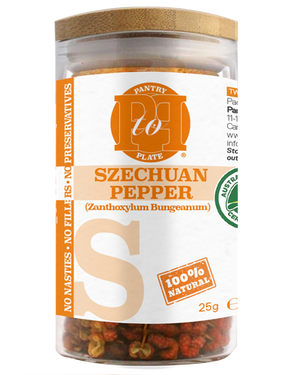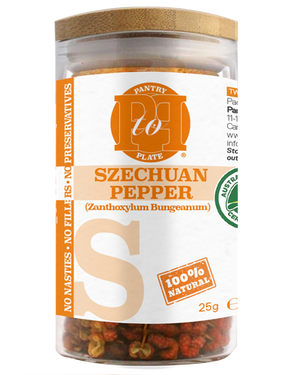 On Sale
Szechuan Pepper Dried Whole

(Zanthoxylum Bungeanum)
Aromatic pine and lavender with a slight citrus sweetness.
Legend claims that Szechuan Pepper was once reserved only for the Chinese Emperor. Now it is famous for the numbing sensation it causes in your mouth. Unrelated to black peppercorn or chilli peppers, Szechuan Peppercorns are the dried berries from the prickly ash tree, a citrus family member.
Perfect For: Szechuan's enticing "numbing" heat makes it perfect for Chinese favourites such as Kung Pao Chicken or Hot Pot. Use it to bring some extra excitement and vibrant colour to your stir-fries, soups, stews, chicken, or unagi.
Pairs Beautifully With: Our all natural Cinnamon, Star Anise, and Coriander Seeds.
Unleash the Flavour: Roast Szechuan Peppers over medium-low heat (but be careful not to over-roast) to release the amazing aroma!
Origin: Sourced from far beyond the Wall. Home of terracotta soldiers and fried rice - The People's Republic of China
Ensure Longevity: Store in a cool, dry place out of direct sunlight.