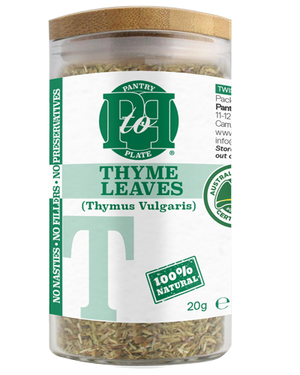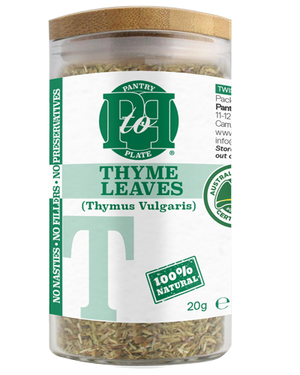 On Sale
Thyme Leaves Dried

(Thymus Vulgaris)
An earthy, slightly minty flavour.
Price per 10g: Only $1.15
A member of the mint family, stories about Thyme are spread all throughout history. Thought to be a symbol of courage by the Ancient Greeks, Thyme was given as a gift to knights during the middle ages. Whilst the Ancient Egyptians used its properties for embalming.
Perfect For: Thyme is perfect for proteins such as pork, beef, poultry and fish. Use it in rubs, marinades and salads. Add it to stuffing's stews and sauces. Or it to soups at the end of cooking to unleash its delicious aroma.
Pairs Beautifully With: Our all-natural Rosemary, Oregano and Sage.
Unleash the Flavour: Due to its ability to withstand long cooking times, add Thyme early in the cooking process to release its amazing flavour and aroma!
Origin: Internationally sourced from multiple origins.
Ensure Longevity: Store in a cool, dry place out of direct sunlight.