Co-Founder & Director
Melissa Murat
Spice Profile: Chipotle Chilli Powder
Earthy, with a medium heat.
Melissa, who goes by "Mel", is one half of the passion behind Pantry to Plate Co. She is the quintessential foodie, who's love of food and creativity stretches into a deep passion for travel, new experiences and photography. She's mother to one energic two year old that keeps her on her toes, and 3 fur-babies who are also partial to the foodie lifestyle with their mama cooking them wholesome home cooked meals too!
Mel's unquestionable talent and creatively flows into her workplace, with several years experience holding senior executive leadership positions in global companies across Marketing, Sales, and New Product Development. Mel's roles at PtoP include the fun stuff like cooking, marketing and product development, and the analytical stuff like finance!
---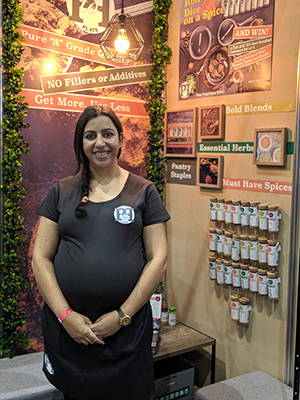 Co-Founder & Director
Ghada Turner
Spice Profile: Masala Chai
Rich and warming
Ghada, affectionately known as "Ghads", is Pantry to Plate Co's other half. She is a mother to 1.5 kids (with the newest addition to the Pantry to Plate staff list due in August 2019!) who's love of all things food is very nearly as strong as her love for her children. (Sorry kids!). Her cooking style can only be described as 'rustic', and cooks by heart and taste, more than by recipe. Moderation has never been a strong suit, where she is renown for 'cooking for the masses' (even though the table setting is for 4 people!) And her biggest fear is that someone will leave the table hungry. There are very few things in life that make her happier then seeing an empty plate with a full stomach.  
Professionally she has worked in senior roles within Project and Product Management for most of her career, which explains why she has a deep love for all things degustation and menu planning! Her roles at PtoP include cooking, Operations, Sales, HR, and product distribution.
---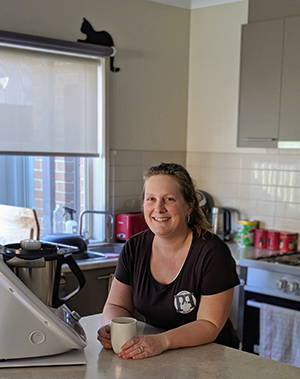 PtoP's Resident Chef
Sian Dardenne
Spice Profile: Ground Ginger
Fierce and peppery with lemony undertones
Sian, (pronounced Sharn!) is a stay at home mum of three (11, 2 and 10mths). She is a food lover in the form of tasting and creating whilst being money conscious and most definitely time savvy.
Prior to becoming a full time mumma just over 2 years ago, Sian worked in the corporate world in roles of strategy and initiative management, change management and project management.


Sian now spends her time cooking exciting and delicious meals, snacks and treats that keep her and her family smiling and their tummies full! There is nothing more enjoyable than hearing your 2 year old say "wow mumma...yummy yummy! More please!"


Sian's role at PtoP is to share easy(ish!), delicious, affordable food ideas that you can whip up in your own kitchens for your own families and friends, without spending a fortune or copious amounts of time slaving at the stove. Happy cooking everyone 😊