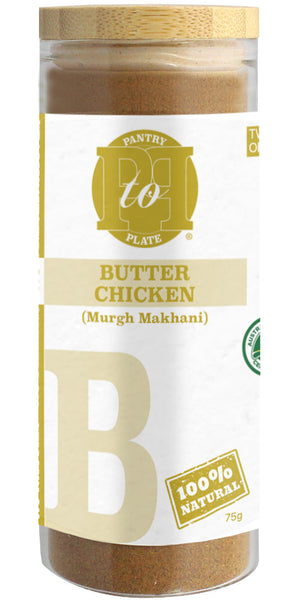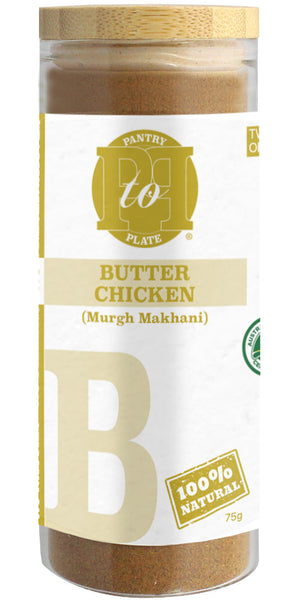 On Sale
Butter Chicken Spice Blend - Large

(Murgh Makhani)
A bright, highly fragrant and slightly sweet herb.
Developed by three Indians in the 1950s, our Butter Chicken mix combines India's most commonly used spices to create an aromatic, creamy chicken dish that is out of this world.
Perfect For: Butter Chicken is perfect for nearly any type of cook. Don't have a tandoor? Use the stove top or slow cooker. Or add a different texture or flavour by grilling, roasting or pan frying.
Contains: Butter Chicken is a rich, well balanced blend of Turmeric, Garam Masala, Cumin, Ginger, Cardamom, Cinnamon, Paprika, Chicken stock, Chilli, Black Pepper and Salt.
Cooking Directions (Serves 4):

Combine 200g yoghurt with 4 tbsp. of Butter Chicken.
Add 8 chicken drumsticks to mixture and refrigerate for 2 hours.
In a pot on stove top, add 30g butter, 1 tbsp. oil & 1 tbsp. Onion Powder. Stir until butter is melted.
Add 3 tbsp. tomato sauce, 1 tbsp. salt & 1 cup water. Mix well.
Add chicken mixture including marinade. Cover & cook for 20 min.
Take off heat & stir in 300ml cream.
Return to heat & simmer for 10 min.
Serve with Rice & Roti bread.
Origin: We've done the blending for you, in Australia from local and imported ingredients.
Ensure Longevity: Store in a cool, dry place out of direct sunlight.