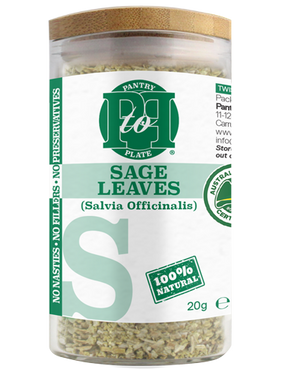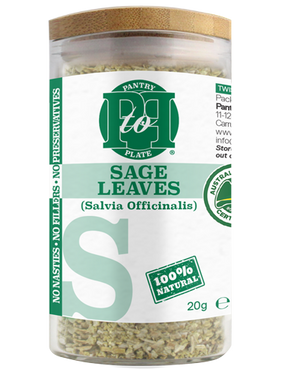 On Sale
Sage Leaves Dried

(Salvia Officinalis)
A robust peppery and savoury flavour, that is highly aromatic.
Price per 10g: Only $0.84
Stronger and more flavourful than fresh sage, Dried Sage is part of the mint family from an evergreen shrub typically found in Alabama. Popular during Christmas dinners, it is featured prominently in turkey and stuffing recipes. Sage's botanical name is thought to have come from the Latin word "salvere," meaning to be saved.
Perfect For: Sage's versatile yet complex flavour pairs well with fatty proteins, such as sausage & pork. Mix with apples, onions & bread crumbs for a fantastic stuffing. Season pumpkin and roast for an extra flavour hit. Try browned butter for a decadent sauce for lobster or ravioli.
Pairs Beautifully With: Our all-natural Fennel Seeds, Black Peppercorns, and Garlic Powder.
Unleash the Flavour: Add Sage early in the cooking process to release its amazing flavour and aroma!
Origin: Sourced from the land of belly dancing, pides and Turkish coffee - Turkey
Conversion: 1 teaspoon of dried sage = 1 tablespoon of fresh chopped sage
Ensure Longevity: Store in a cool, dry place out of direct sunlight.