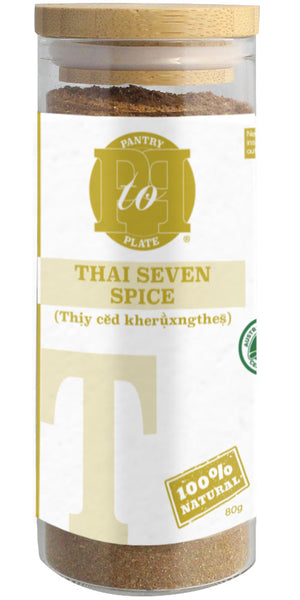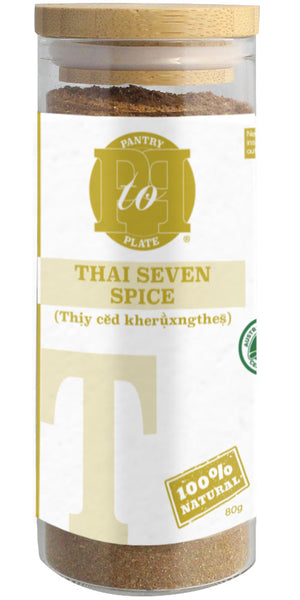 On Sale
Thai Seven Spice Blend - Large

(Thịy cĕd kherụxngthes)
An aromatic flavour punch with a tangy bite.
If authentic Thai cuisine could be described in one word, it would be "Balance". Thai Seven Spice is a delicious combination of sour, sweet, salty, bitter, and spicy that brings together Thai and South-East Asian Cooking's essentials in one perfectly balanced blend.
Perfect For: This traditional fragrant spice blend is perfect as a spice rub or marinade for both red and white protein, especially fish. It will pack a flavour punch to your rice dishes, stir-fries and curries, or add to oil and fresh lime juice for a tangy vinaigrette or salad dressing.
Contains: Thai Seven Spice's balanced blend of traditional components Lemongrass, Ginger, Chilli, Garlic, Coriander, Cinnamon, Pepper, and Cumin, talks to the heart of Thai and South East Asian cooking.
Origin: We've done the blending for you, in Australia from local and imported ingredients.
Ensure Longevity: Store in a cool, dry place out of direct sunlight.