SFOUF - TURMERIC AND SEMOLINA CAKE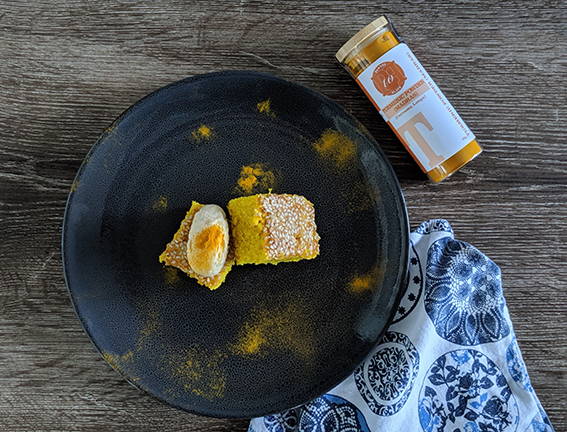 Ingredients
1/2 Cup of Plain Flour
1 1/2 Cups of fine Semolina
1 Tbsp of ground Turmeric
1/2 Tbsp of ground Aniseed
1 Tsp of Baking Powder
1 Cup of Milk
1 1/4 Cup of Sugar
1/2 Cup of extra virgin Olive Oil
1/2 Tsp of pure Vanilla Essence
1 Tbsp Tahini
Sesame Seeds to sprinkle on top
Method
Pre-heat a fan-forced oven to 160ºC

Mix plain flour, semolina, turmeric, ground aniseed and baking powder together

In a separate bowl, using an electric mixer, mix milk and sugar until sugar starts to dissolve. Add oil and vanilla essence.

Still using the mixer, slowly mix in dry ingredients into wet ingredients until well combined. The dough should be runny (similar to a batter).

Use a tablespoon of tahini to coat a 23cm square baking tray. (Can use baking paper if preferred)

Pour the mixture and sprinkle with sesame seeds.

Bake in oven at 160 C fan forced for 30 min, and use the 'skewer test' to make sure the cake is completely cooked through.
If you want a more Mediterranean flavour, substitute vanilla for half a teaspoon of rose water or blossom water
---